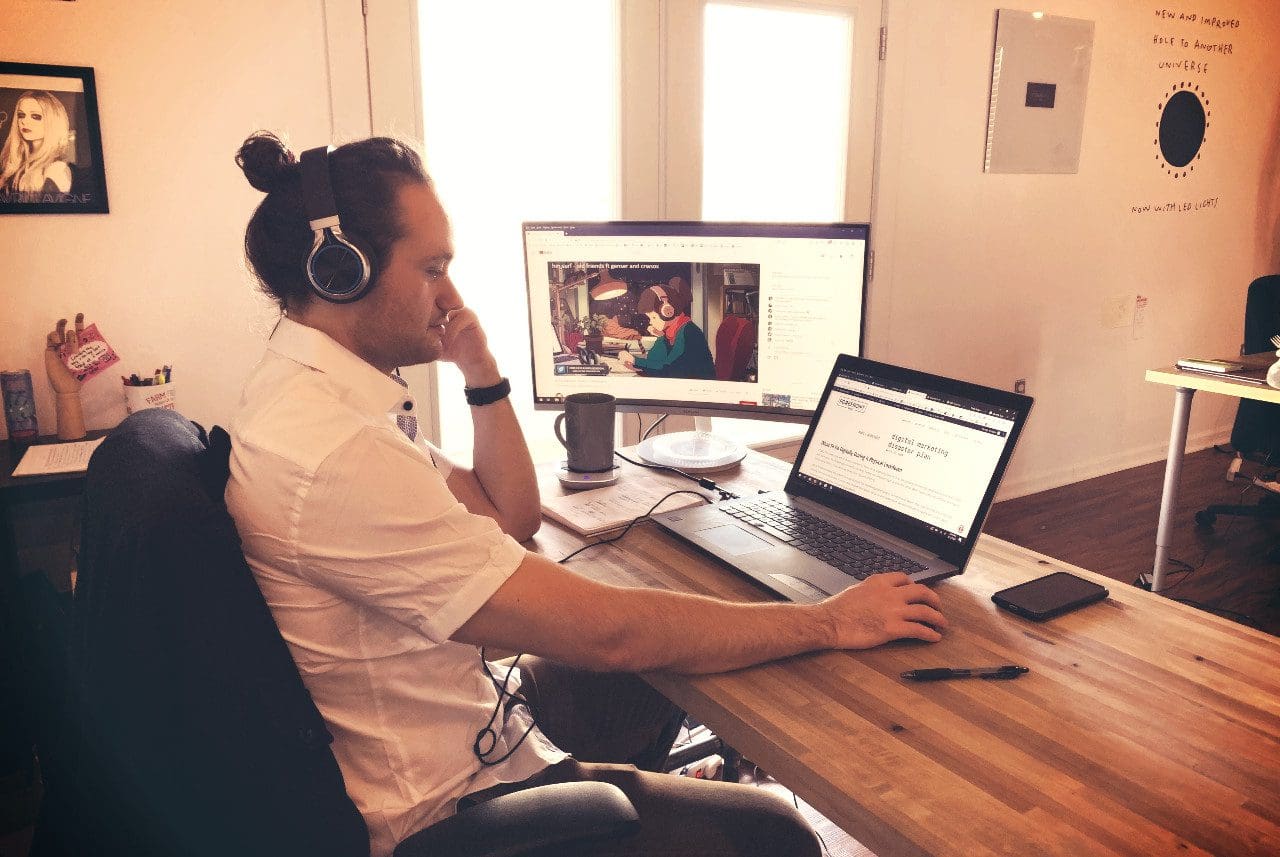 Digital Marketing Disaster Plan
What To Do Digitally During A Physical Lockdown
COVID-19 is here, and with it comes uncertainty. Many of us, especially here in Ohio, are growing increasingly antsy about health, finances and the future. We're washing our hands, checking Twitter and keeping it light around the office. While livelihoods and wellness are top of mind, we're here to cover what we know best: digital marketing.
We at ForeFront know this subject isn't top of mind, but marketing plans/budgets can potentially weave their way into the areas that are causing the most insecurities. If you're able to cover your bases, stock up and settle down, we welcome you to take a look at our digital marketing plans during the coronavirus pandemic.

Inform Your Audience
The best thing you can do during a time of crisis is communicate – whether you're shutting the operation down, working remotely or maintaining course in the office.
Social Media Upkeep
Announce your hours of operation and/or changes in communication via every one of your social channels. You can also use this space as a chance to spread confidence by posting pet pictures, home office setups and other "real world" content. Whether they're worried or just bored, people are going to be home, checking these platforms religiously. Be there for them.
Website Banners
If there is a disruption in service, put it loud and proud on the homepage of your website for all to see. If there isn't, announce that as well. Don't make people guess while they're nervous about everything else. Be clear. Be direct. Be comprehensive when we don't have much else to go on.
Blog Posting
Much like what we're doing here, giving your thorough thoughts and perspectives about what is happening around the world can give a little more guidance during a time of crisis. Pack in all of the long-form information you want to publish to the public. Show leadership during a time of need – in whatever capacity you can. Your visitors and customers trust you.
Email Blast
Not everyone checks your website every day, nor do they hop on Twitter to see what your organization is up to. Another way to reach your customers and/or members is to go straight to the inbox. Give these folks the straight details – hours changes, ways to reach you, notes about service disruptions, what you're doing to "flatten the curve." Leverage that email list you've been building for years!
Google Business
This one is really simple: Update those hours and broadcast your recent blog post.
What To Do Each Week For Your Google Page
Dig Deep Into Your Paid Search Channels for Guidance
AdWords offers a wealth of information about what people are searching for – or what they're NOT searching for. For instance, we've already seen one dental company lose 25% of impressions from one of their locations. Another trend we've seen: B2B companies that sell to B2C companies have experienced a drop in leads – not because of a drop in Organic Search performance, but because of a serious decrease in searches for specific products/services.
Follow These Steps To Determine What You Should Do For Your AdWords Campaign
Login to AdWords
Select a current campaign that has run for more than a month
Click the date range in the upper-hand corner
Select the past 10 days & toggle "Compare" at the bottom of the list
Select the corresponding 10-day period from the previous month*
Look at the impressions and cost sections for percentage changes
If you're seeing a drop of 25% or more, cut your daily spend down by the decrease you're seeing; this will also remove the wasted spend from ad clicks and artificially inflated cost-per-clicks
If impressions are increasing, cross-reference what your organization can handle & consider potentially increasing spend
*This is important because, sometimes, the AdWords algorithm will give more resources to certain parts of the month

Auction Insights: See What The Competition Is Doing
While still logged into AdWords, head over to the left-hand side of the platform and select Ad Group. This will open up the option to view Auction Insights. Click that. This section allows you to see how much "impression share" your ads take up when people search your targeted phrases. Keep an eye out here.
If your organization can operate remotely and you also see your impression share slightly rising, strike while the conditions are right. Increase your budget – especially if the competition you see in this list is made up of conglomerates (e.g. Amazon). People will want local. They'll want real people handling their issues.

What To Do If Your Organization Cannot Operate During a Lockdown
If you've determined that working remotely isn't feasible for your company, switch your digital marketing efforts to long-term planning. Shut off your AdWords campaigns, pause those social media advertising campaigns and stock up on long-term power. Invest in your long-term digital vision.
Content Marketing & Blog Writing
Use this downtime to create. Look ahead with optimism and establish a backlog of seasonal blog articles that you can publish throughout the year. Make bold predictions for what the future will hold for your industry. Search engines like to digest new pages and readers like new, value-adding content!
Fire up the Keurig, turn on that Lo-Fi hip-hop radio and let your insider insights be heard.
Social Media Calendar & Routine
Social channels offer a lot in terms of branding and outreach, but often get swept to the side when folks are busy. Some social media automation apps exist solely to make life easier for these people, but require a little bit of learning to set up. Now is that time to learn that new skill.
Whether you're looking at Hootsuite, Later or any other platform, there is no better time to start building your organization's social media infrastructure than when things have slowed up a bit.
Attend Webinars & Stock Up On Knowledge
During a lockdown, there will be no shortage of online broadcasting. Keep your tabs on the news, but also sign up for a few digital marketing webinars while you're out there. Refreshing your Twitter feed can only do so much. You can use this time to learn – especially if you've been putting off learning about Google Analytics, Google AdWords, content writing or social media because you were too swamped!
Get Actionable Insights From The Moz Blog
Backlink Building, Earned Links & Guest Posting
This is the big one for SEO. Building a strong backlink portfolio takes some time, but it's your strongest tool for boosting Organic Search rankings. While you're creating content for yourself, take a look at some of your industry partners' websites – do they need new content? Find a way to give your perspective to their unique client base and link back to your website naturally. Not only does this give your industry partner something to give their audience, but it also reinforces your website as a source of great information. Search engines LOVE that!
Also, if you're a local business that has a unique perspective on certain subjects, reach out to your local newspaper. Journalists will be hard at work – from home – during this time and will need sources for local perspectives on specific subjects. You can shine in this role and, when the story is published, get a backlink from this authoritative website back to yours – while also providing valuable information to your community.
Have additional questions about what you can do from a digital marketing perspective during the coronavirus pandemic? Wondering what other bases you should cover to best inform your audience? We're here to help – all the time. 
Join Today
Want exclusive marketing tips and tricks sent straight to your inbox? Join 1000+ fellow businesses and subscribe to our monthly newsletter!
Back to Blog