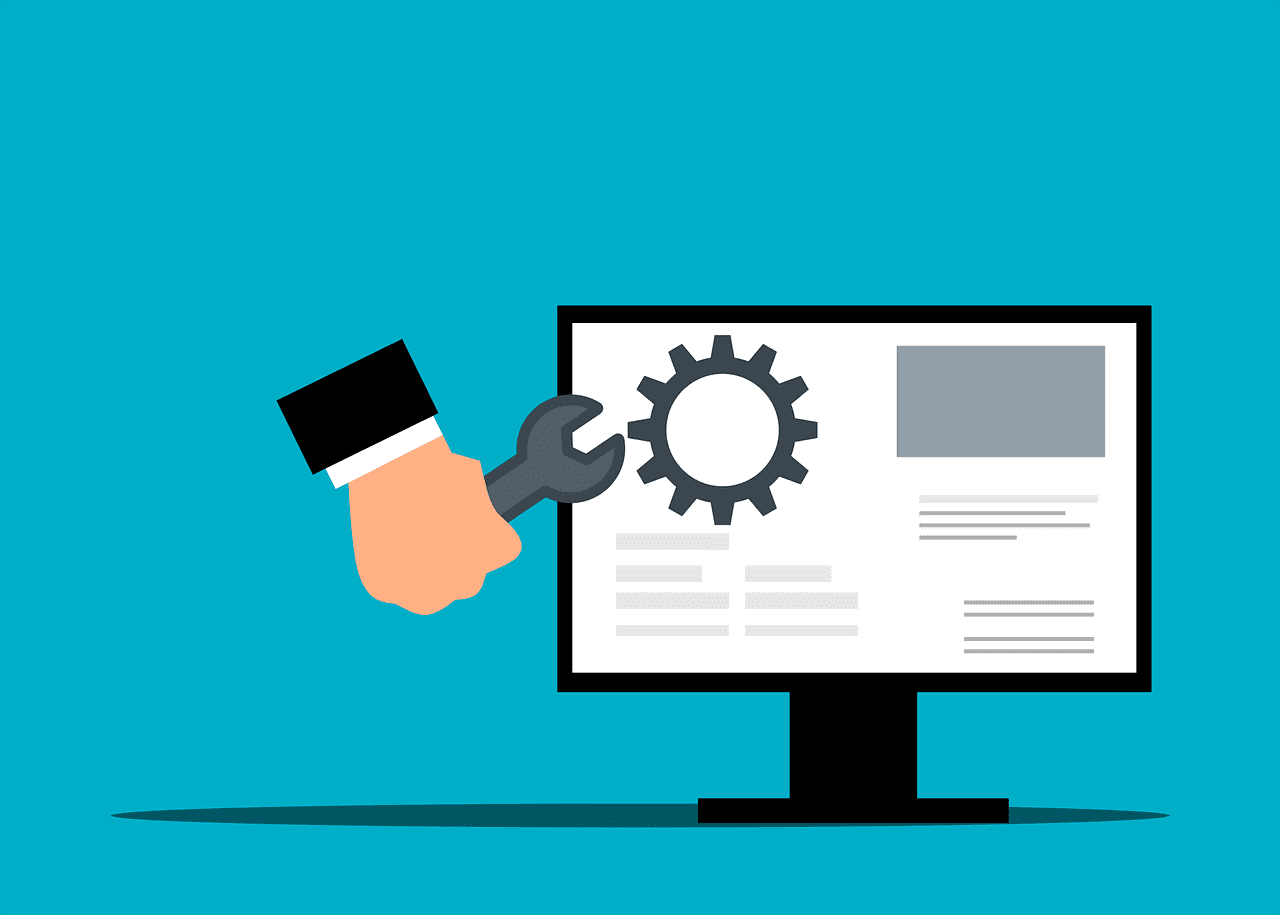 Digital Marketing Lead Generation Tools
Digital Marketing Tools That Are Helping Agencies Generate More Leads
Nowadays, there is a seemingly unlimited database of digital tools at every marketer's disposal – each one claiming to be the breakthrough resource to help your leads "aBsOLuTeLy SoAr!" It's difficult to discern what works from what doesn't, and making it even more difficult is the fact that new systems and apps are created every day. The move to widespread remote work since March 2020 has had a profound effect: great for creating a better understanding in the digital space, confusing and frustrating for the average small business owner.
(Note: I promise that's the only time I'll reference the pandemic. Even if it hasn't gone away, we're as sick of talking about it as you are)
Let us, the pros who are working within these systems every single day, sift through the junk and identify the tools every business owner and online marketer should be using to get more leads in 2022.
#1 The Tried and True: Google Search, Shopping & Local Services Ads
Google Search Ads
If you've ever spoken to us before, you probably understand the soft spot we have for Google Ads – specifically, Google Search Ads. It's nothin' crazy. They just work. From brand new dental practices looking to kick-start their business to small family-owned businesses with no current organic presence, anyone can get in front of their audience segments at the top of page 1 of Google search results. Of course, this always depends on variables including radius of targeting, competition of keywords and industry.
Google has even introduced the "lead form" extension that attaches beneath your ads, so customers seeking your services can become leads straight from the search results, without ever even clicking through to your site. (Where's that Staples "Easy" button when you need it?)
Managing your Google search ads to maximize performance is what separates the good campaigns from the bad ones.
Google Shopping Ads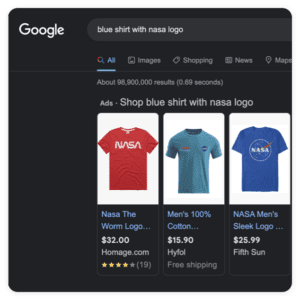 If you sell a product online using Shopify, WooCommerce or a similar platform, this tool is almost certainly worthwhile. While Google Shopping Ads campaigns allow less managerial control within Google Ads – which some people actually prefer – they're more visually appealing to the consumer. Online stores often have apps that can easily walk you through funneling your product feed directly into Google Ads. Then, Google's machine learning intelligently runs the ads for you with a Smart Campaign based on the product you're selling. That's where the limited user control comes in.
Google Shopping Ads are typically favored over search ads and appear above them as the first results shown, which makes these campaigns even more valuable for online sales: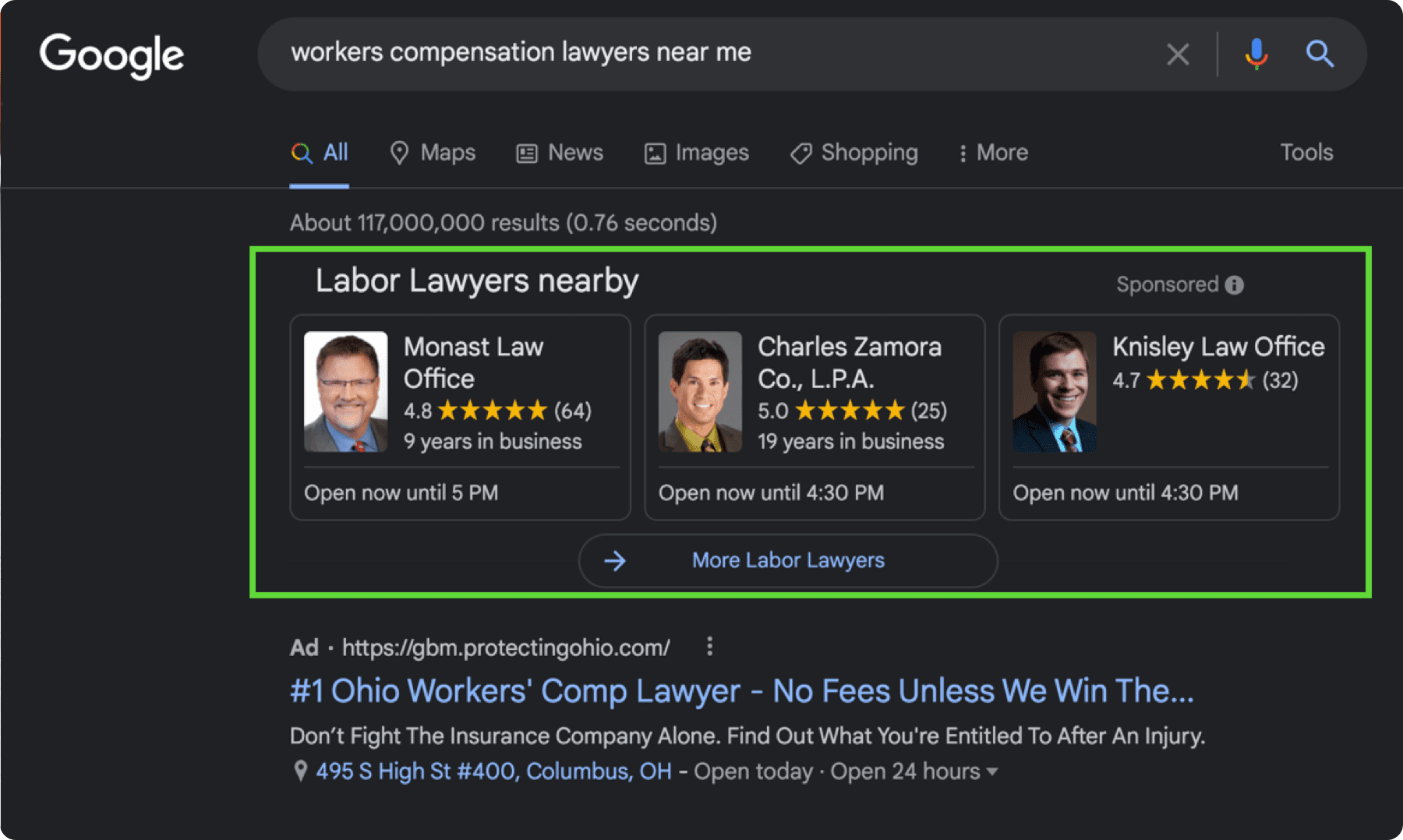 Local Services Ads
After we added a client in a limited industry category, we had a "what the heck are those?" upon we were searching related keyphrases. Check out the list of eligible businesses for local services ads and Google's rundown of its features.
So, what are Local Services ads, how do they work and why should you use them? Well, the evidence is right there in the screenshot: they're more trustworthy and personable, and the first results that show up on Google search. If you're a local plumber, arborist, lawyer or member of the housing/remodeling industry, this likely is a worthwhile endeavor. As shown in the screenshot above, they're the first thing on search results, above search ads. They're also essentially a streamlined lead generation opportunity – the inquiry proceeds directly from these ads when expanded. You only pay when you get a call or lead.
The setup is fairly simple. As with Google's Merchant Center and Shopping Ads, these ads are created within Google's local services ad platform, then funneled to your Google Ads account for increased management purposes.
#2 Social Media Ad Campaigns: Facebook and Instagram
At ForeFront, I've often been referred to as the "Facebook guy." I swear I'm not flexing; it's mainly because I've had to spend so much time (as well as blood, sweat and, most prominently, tears) within Facebook's business manager. That means making sure we follow their crazy extensive protocols, don't violate any policies and correctly organize all of our agency and partner-owned assets. This is all to say I have a pretty good (if not perfect) idea of the lead generation benefits both Facebook and Instagram can offer.
(Image Source: Facebook's Business Manager Guide)
Once everything is in place with your Facebook pixel, events, page, and ad account(s), Facebook becomes a great lead generation tool. By constructing an audience, you can create an outreach ad that reaches your desired demographics based on interests, age and location. You also have a few options as to how you want to convert leads.
All Facebook and Instagram (owned by Facebook) lead gen options start off with the same process: create a post including an appealing offer, write effective ad copy and include visuals that stop a user's scrolling. Super easy, right? (Right? Right?) Don't worry; we can help out with your content marketing needs and create ads that convert – if you're down with getting some help.
Ad types that help convert leads on Facebook and Instagram:
Website Destination: direct users from your Facebook ad to your site, where they fill out a form or call your business
Lead Form: create and attach a lead form directly to your Facebook ad, so you can generate leads without users ever having to leave the platform
Call-Only Ads: send an interested party directly from the ad to the business phone number; these are usually best suited for quick transactional services with exclusive offers
Retargeting: put an offer in front of traffic that otherwise isn't generating form submissions or inquiries
Finally, it's important to know your audience on each platform, so you may want to change up your ad copy, age targeting, image dimensions, etc. based on where you're marketing. This can be done by splitting up ad groups within the ads manager.
Those Other Social Media Platforms
No, we're not going to include Twitter or … ahem … TikTok (sorry!). These platforms are typically better for brand awareness/exposure (Twitter) and showcasing, new, often cheeky, products to a younger demographic (TikTok). Can that aspect of TikTok be beneficial for your business? Sure! But it likely requires having someone in-house who knows video best practices to highlight specific products through video production.
Full disclosure: I bought, with zero shame or reservations, a sunset lamp a couple months ago after seeing it in a TikTok video. So there's no denying it can work with the correct resources!
#3 The Best Website Performance and Ranking Tool: SEMrush
There may be no better indication of your website's effectiveness than a tally of the organic website leads coming in from search inquiries. The higher that number, the higher the odds that your website is appealing to audiences who are in the discovery phase – often the most valuable type of lead, as it's amongst heavy competition.
Some searchers completely disregard Google Ads and will opt to go directly to the first organic post. These are the links and sites Google sees as most trustworthy. That's why improving your organic presence is increasingly important to achieving page 1 placements for your main keywords and earning that trust from Google: Please, Google, tell me you're proud of me. (Sorry, got some trauma to work through)
Aside from the obvious Google Analytics, most agencies have a wiiiiiiiide variety of online tools that they use to measure/track website performance, including ours. I won't cram every single one into this post (plus, my boss might fire me if I give them all away). But I'll talk about my absolute favorite: SEMrush.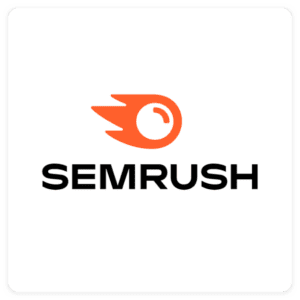 "How can SEMrush help me?"
I'm glad you asked! Check out just a few ways I use SEMrush to track and improve our client websites.
Keyword Placement Tracking and Management: Back in the day, to check where a site was placing on Google Search for any given keyword, I would open up an incognito window and get to searchin'. However, through its organic research tool, SEMrush allows you to see how many keywords a site ranks for and where that site is ranked for any keyword or keyword variation. This is an incredibly helpful tool for benchmarking and helping to optimize your website for the highest-volume keywords. Plus, as you optimize for your most relevant keywords, you can condense and bury the ones that don't apply.
Competitive Analysis: Just as you can measure where your site ranks, you can do the same for competitors. You can see the keywords for which your competitor is showing up on page one, or at least ranking higher than your site, and how much estimated organic traffic those keywords are bringing in. If you find something a competitor is ranking for something relevant to your business – and you aren't – it identifies an opportunity to improve!
Blog Topics and Keyword Research: Wondering how I came up with a topic for this blog post and phrases to help optimize it? Look no further than SEMrush's Keyword Tool. This allows you to type in a keyword ("digital marketing lead generation") and gain variations of this keyword based on volume, competition, etc. It also gives you a list of the most searched questions relating to that keyword. Use this to learn the questions your site needs to answer to reach your desired audience and generate leads.
Improving your website's organic presence is important no matter what. Though it won't directly get you leads, it will increase your opportunities to bring the right audience to your site and, hopefully, convert.
#4 The Best Online Graphic Design Tool: Canva
If you're like us, you have a graphic designer who is currently out of the office on maternity leave (we miss you, Sarah!). So, that means we have a bunch of amateurs with less than 5% of her experience crafting images. And, as I mentioned earlier, your creative image for social posts is fairly crucial in capturing a lead.
Let me introduce you to our short-term saving grace: Canva.
Now, it's important that I point out that this is in no way a replacement for your graphic designer – just as a site builder such as Wix or Squarespace isn't a replacement for a qualified web developer. But if you need to make a quick edit to an image, or create an image for your next social post or ad, Canva can certainly get the job done.
If you don't want to create something completely custom from scratch, Canva has a wide variety of templates to get you started. You can choose a template based on what you want (banner, ad, poster) and where you want it (Facebook, Instagram, Snapchat), and Canva will adjust the dimensions of your masterpiece to match. What makes Canva such an easy tool to use is the drag-and-drop feature, similar to that offered by many site builders. So if you want to add elements such as text, shapes or icons to your images or any available templates, you have the ability to do it.
#5 How To Generate Leads Through CRMs and Email Marketing Tools
These lead gen tools are helpful in engaging with and getting your services in front of your existing customer base. Systems such as HubSpot, Zoho and Keap (fka infusionsoft) attach to your website and allow you to manage your database of new and existing customer lists. You can tag customers and create unique lists in order to construct different methods by which you'd like to reach them. To illustrate:
Let's say 500 total people filled out a form on your website (Universal Form Tag)
Out of those 500 entries…
260 said they found you via Google Search (Tag A)
110 said they found you by clicking on a Google Ad (Tag B)
100 said they found you on Facebook (Tag C)
30 said they found you by word of mouth or some other such medium (Tag D)
Now you can use these tags to create custom email campaigns and broadcasts to uniquely communicate with your audience based on their previous activity. This works great for drip campaigns, abandoned cart instances and exclusive offerings.
You can also use these CRMs for advanced campaign construction which allow you to nurture the leads interacting with your website/forms through other sources beyond email, such as Facebook or paid ads. Check out this lead generation example from InfusionSoft/Keap using their campaign management tool: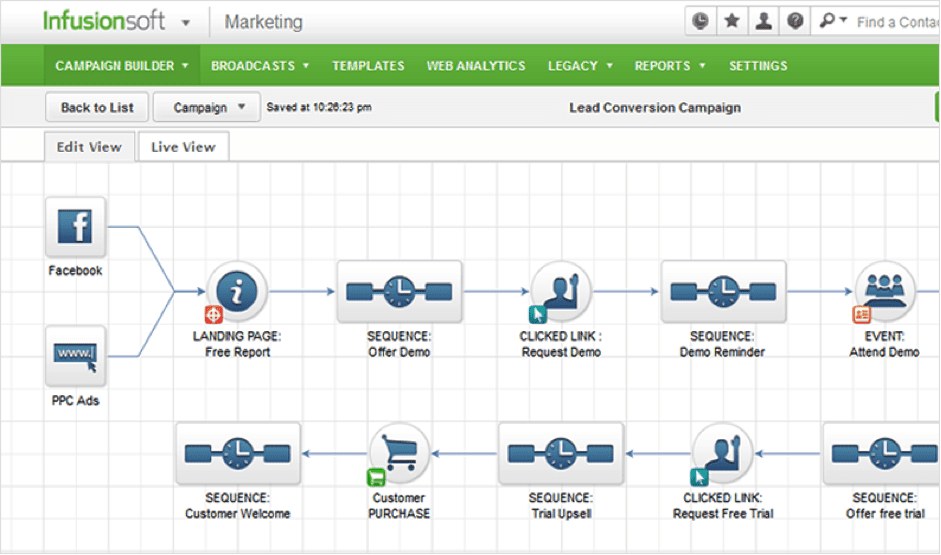 For anyone starting their very first campaign, this is my favorite lead generation tactic with email marketing:
Step 1: Send out an email broadcast, then strategically follow up based on how each user interacted with the first email.
Step 2: Strategically follow up based on how each user interacted with the first email.
-Users who didn't open the email at all get re-sent the email with a "Re: Did you see this?" subject line.
-Users who clicked a CTA link in the first email, but didn't convert, get tagged and sent an email offering an exclusive deal.
-Users who buy are tagged and removed from the campaign.
If you want to quickly get started with email marketing, but don't already have something in place, I would suggest MailChimp or Constant Contact. These are great, fast and intuitive tools to start generating leads through email marketing.
#6 A Conversion Optimization Team
Every company has a conversion rate optimization expert on hand, right? Well, they should! What makes the above-mentioned lead generation tools so valuable is the ability to monitor and address what is and what isn't working in your campaigns. You could use every tool in the industry and still wind up getting zero leads before asking yourself, "What gives?"
That's why we have people on our team to identify the where, why and how users are dropping off from your website without converting. Maybe there's something wrong with your landing page experience. Maybe there's something structurally wrong with your forms, or you're targeting the wrong people – there's nothing worse than wasting money on junk clicks. Or, maybe, your offer just sucks (trust me, you wouldn't be part of a minority here!).
That's where we can come in and provide you with a full website analysis campaign audit to help you address potential issues and convert more leads. Give us a call or fill out the contact form below and let's start rollin' in those leads!
Join Today
Want exclusive marketing tips and tricks sent straight to your inbox? Join 1000+ fellow businesses and subscribe to our monthly newsletter!
Back to Blog