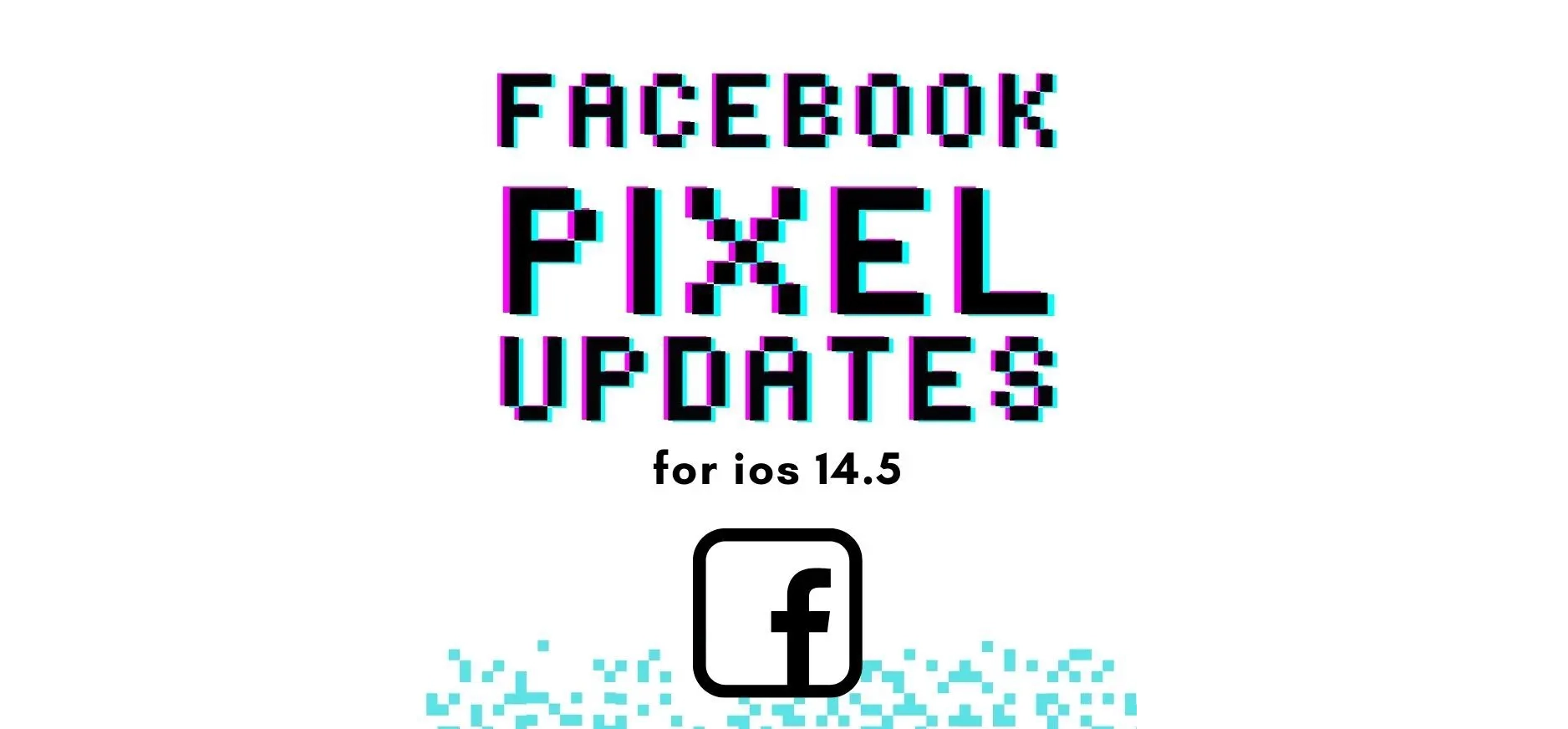 Facebook Pixel Updates For iOS 14.5
How To Set Up Your Facebook Pixel & Web Events [2022]
Table Of Contents
Setting Up Facebook Conversion Events
Setting Up Aggregated Event Measurement
You may have seen the warnings from your Facebook ads account: Apple's iOS 14.5 privacy update is here. Unless you've already spent time actively preparing for the update within Facebook's business manager, chances are, it's already affecting and limiting your ad performance.
Preparing your ad campaigns for Apple's update means working in your Facebook page's business manager and events manager. And unless you personally run ads – maybe you have a digital marketing agency or third party that does it for you – you probably don't spend a lot of time there.
I'm here to show you exactly what you need to get done on the back end to ensure your Pixel, events and ads are all set up for the best results. (Note: If you already have your Pixel set up, and your campaigns running and optimized for Pixel events, you can skip steps 1-3)
How To Create Your Facebook Pixel (Step-By-Step)
Go to business.facebook.com (check out this guide straight from the source on Facebook business manager).
Make sure your assets are in place – your business page is brought in, and your ad account is created to build and edit future ad campaigns.
3. If you haven't created a Pixel, go to business.facebook.com/settings, and add a new Pixel by going to Data Sources -> Pixels on the left-hand sidebar of business settings. Place the Pixel in the base code of every page on your website, or the bottom of the header section just above the </head> tag.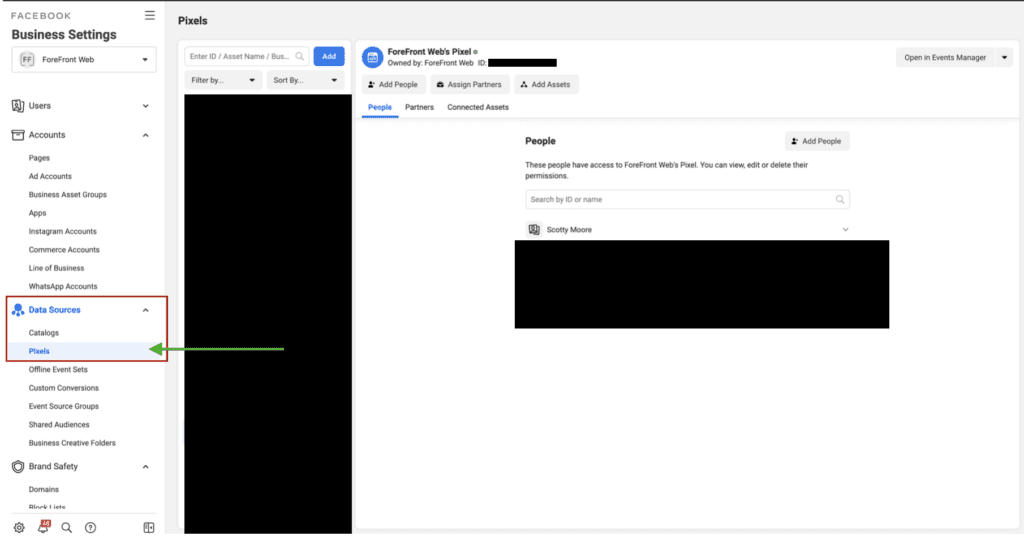 How to Verify Your Domain in Facebook Business Manager
4. Verify website domain under Brand Safety -> Domains on left-hand sidebar of business settings. Then select the blue "Add" button to enter your website domain. Once you enter your site, you may need to pass further verification method instructions on to your web developer.
IMPORTANT: Domains can only be verified or owned in one Facebook business manager at a time, so it is critical to make sure that you verify your domain within your own business manager to ensure you maintain control of this asset.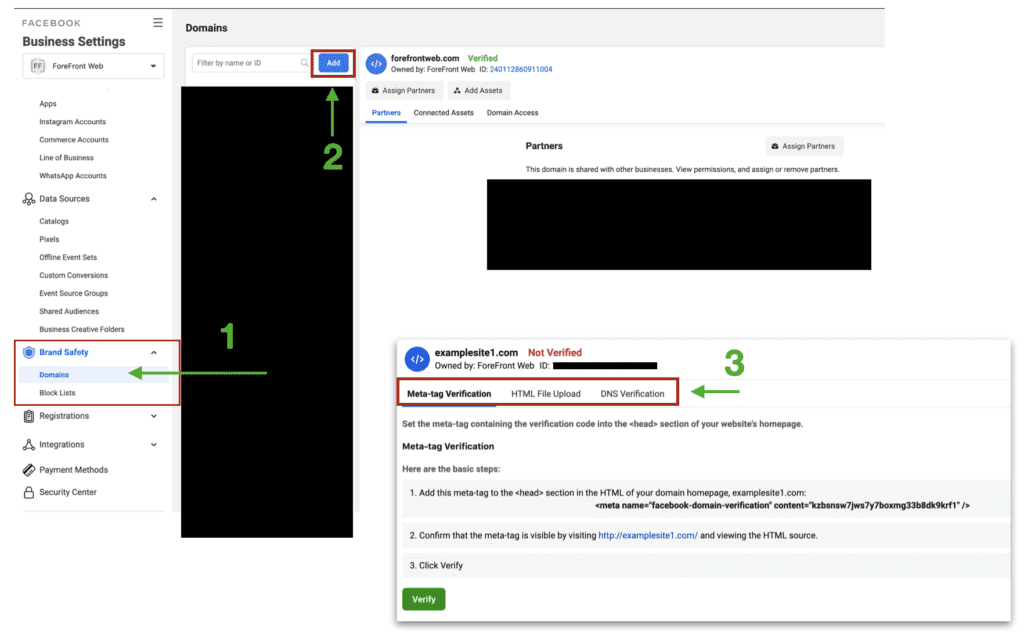 Setting Up Facebook Pixel & Conversion Events
5. Once your Pixel is created and the domain is verified, navigate to Facebook Events Manager to set up conversion and website events from the domain level.
6. Within Events Manager, click on your Facebook Pixel, then locate and click the Settings tab.
7. Click on Open Event Setup Tool under the Event Setup, enter your website and select Open Website: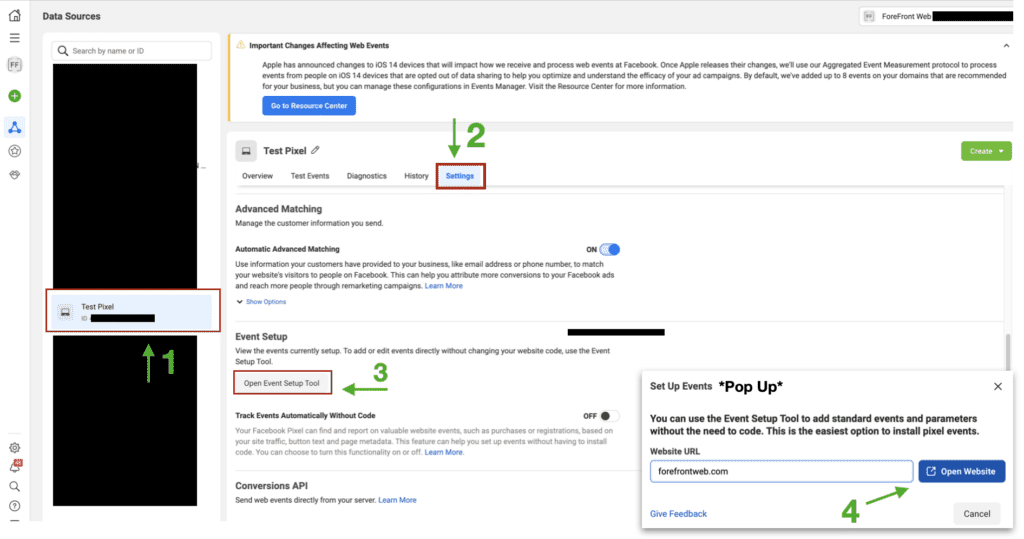 8. Next, your site will open and you can tell Facebook what an event is – Contact Us, find a location, initiate checkout or lead = a website URL or button clicked: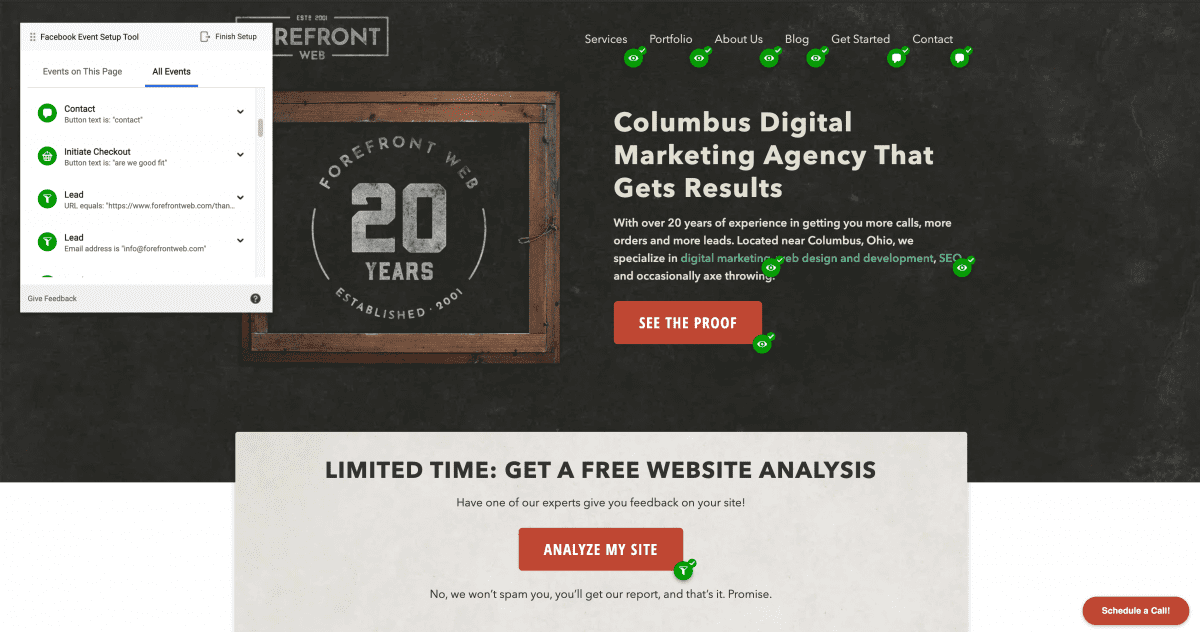 How To Set Up Facebook Aggregated Event Measurement
9. Once you've set up Pixel events, click "done" and head back to the overview tab in Events Manager. Click on the Aggregated Event Measurement tab to configure your 1-8 web events and assign priority levels.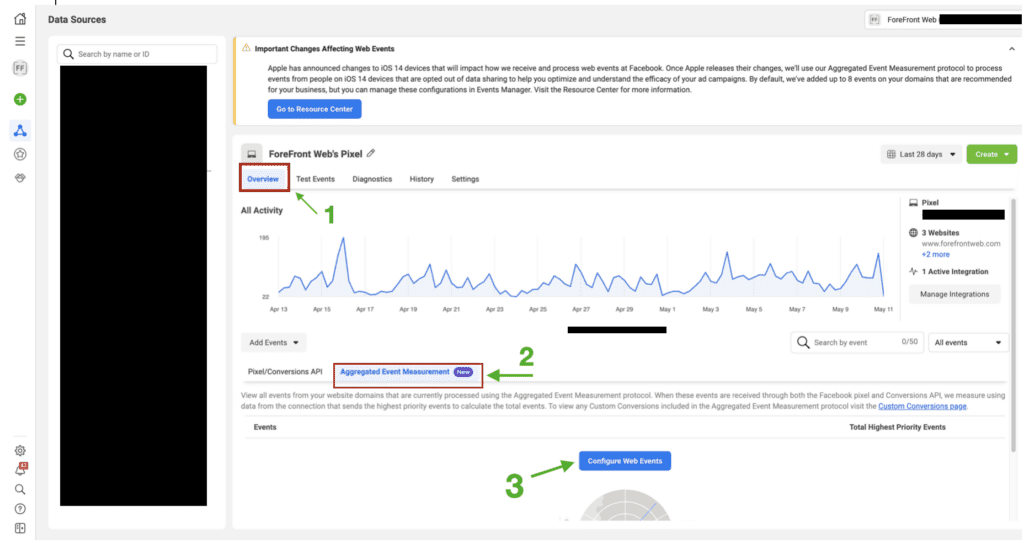 10. You're ready to optimize your Facebook and Instagram ad campaigns for website/pixel events!
A note to remember: With Apple's iOS 14.5 updates, tracking will be less reliable in the short term as targeting capabilities and audience pools grow smaller. Since iOS users can now opt out of tracking, ad campaigns could be generating better results than you're seeing. Still, where there's a will, there's a way. I'm confident that, in time, there will be best practices established to generate (and understand) the best results.
---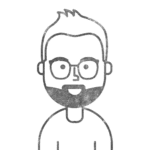 Scotty Moore is a conversion strategist and Facebook marketing guru at ForeFront Web. When he's not analyzing campaigns or executing strategies for websites,  he's playing with his dog, Peyton.
What Does Your Next Facebook Campaign Look Like?
So you've effectively set up or configured your Facebook Pixel to follow the requirements set for Apple's new privacy update. Now what? Do you feel prepared to start a campaign that is going to generate leads, designed to connect with Google Analytics to best understand the success of your ads, and made for an audience that can separate iOS users from the rest of the pack?
If so, great! If not, no worries – we can help! If the technical jargon above confused you more than it helped, we can personally walk you through each step and make sure you maintain control of all of your digital assets. If you'd like us to create a new Facebook or Instagram social media campaign for your business, well, we can do that too. Contact us and let's get started!
Join Today
Want exclusive marketing tips and tricks sent straight to your inbox? Join 1000+ fellow businesses and subscribe to our monthly newsletter!
Back to Blog