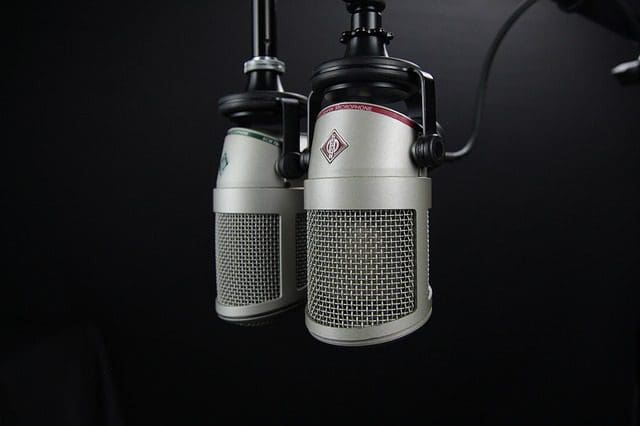 Having Fun With Your Brand
Top Tips on Using a Unique Voice to Engage an Audience
Believe it or not, consumers don't always like to be force fed marketing-heavy sales pitches. Sometimes they like to snack on some light content and easy reading materials before making a final financial decision. Audiences seek your services, but they may also be looking for signs of life within your brand. A company that can promote itself as a leading industry professional, while retaining a bit of personality, satisfies this crowd while keeping a straight-laced persona when needed, sort of like a mullet – business in the front, party in the back. People like to talk to people. While you may not have a representative standing by at all hours of the day, your website (and various social media tools) can do the 24-hour talking for you. If possible, write your content in a way that makes a user feel like they're listening to a human. The mantra of "create engaging content" is running rampant in the marketing world, but the core principle remains true: don't talk at your readers, talk with them. Search engine optimization can be mixed with a conversational voice to create an SEO/friendly-toned hybrid from user experience heaven. We have found a few ways and a handful of examples that demonstrate the tactical fun you can have with your brand. After all, office life isn't all profits and business plans. Sometimes it's about team building exercises, company outings and happy hour!
VIRAL MARKETING CAMPAIGNS
What is going on in the world of advertising these days? Oh, that's right – it seems to be going and staying in the digital direction. Some brands, like Quiznos, are taking the majority of ad money out of traditional techniques and investing it in the Internet.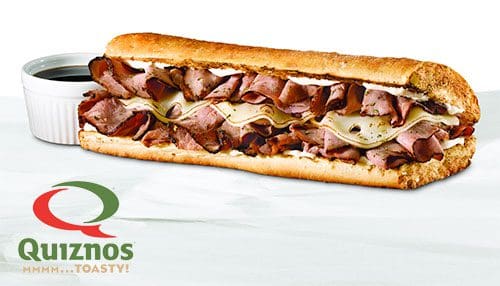 So, what's better than paying for advertisement? Free advertisement. What's one way to get great free exposure while having a good time? Viral videos. Enter: Dollar Shave Club. In 2012, armed with nothing but some Google ads and a few dollars for a campaign, the brand struck gold with its "Our Blades Are F****** Great" video. Hitting more than 18 million views in its lifetime, the piece of viral content yielded more than 12,000 new sign-ups within the first two days of publication alone.
The video is an advertisement home run. There's the perfect amount of hilarity, randomness and shock. It's something you want to tell your friends about or share on Facebook and Twitter. It's carefully constructed to answer all the important questions: what is the product, how is it better than the competition and how does someone sign up. It even talks a bit about the business background, but it does so using comedy and tact. The viewer may not even realize it's an ad.
When people are just hanging out, one person may ask "Hey, did you see that ridiculous video online?" "What video?" "That Dollar Shave Club one." Boom. Branding. It spreads like a virus. It's fun. It's perfect.
BEST OF A BAD CIRCUMSTANCE
We recently stumbled upon a brand that is patiently waiting out the northern United States tourism off season. Visit Ithaca (http://www.visitithaca.com) has pretty much given up thanks to the treacherous winter of 2014-2015. The tourism site knows that most people won't be visiting one of the hardest hit locations in the nation any time soon, so they're making the most of it. While the homepage has recently been renovated, we found a few helpful takeaways from the funny, yet short-lived campaign.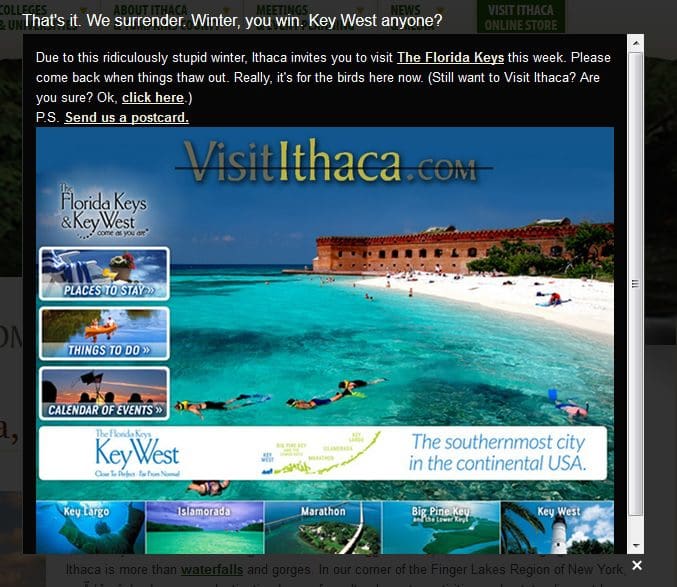 When you first arrived to the website, you were instantly welcomed with a pop-up ad openly admitting defeat to old man winter. "That's it. We surrender. Winter, you win. Key West anyone?" When we first saw this, we had a laugh, but then realized what Ithaca New York was doing. The brand created a humorous tone and made light of a not-so-desirable situation. It promoted a positive message based on current events and which help it remain topical. And this message stuck with us.
During this time, the site also established a strong backlink relationship by promoting another (warmer) industry-relevant alternative: The Florida Keys. When life gives you lemons, backlink back to life and get that extra juice. When there's not much left to be done, you may as well have some fun.
BUILDING A BRAND VOICE
ForeFront Web is another shining example of conversational marketing. That's right! Us. If you've been to our office, you already know that we are your typical "suit and tie" professionals. However, we like to shoot a little indoor hoops when the time is right and break out the Jamaican jams when the situation absolutely calls for it. We mix our quirkiness, popular culture "wisdom," web design skills and mobile application development expertise in a shaker cup to make a delicious cocktail of inviting and optimized content.
Our friendly tone has yielded a plethora of long-lasting relationships with satisfied clients. Returning customers and business leads are the byproduct of our methods, but the best part of our strategy? It's not really a strategy. It's just us being us. We write how we talk. There's really no pressure. ForeFront lets its colors show and wears its personality on the web.
If you have a generally likable persona, there's no sense in hiding behind jargon-heavy filler text. Now, if you're a grumpy 'ole business owner with a hunk of drywall for a personality, you could probably stick to obvious keyword stuffing tactics and a droll wall of words. Leave the fun to the professionals.
Join Today
Want exclusive marketing tips and tricks sent straight to your inbox? Join 1000+ fellow businesses and subscribe to our monthly newsletter!
Back to Blog