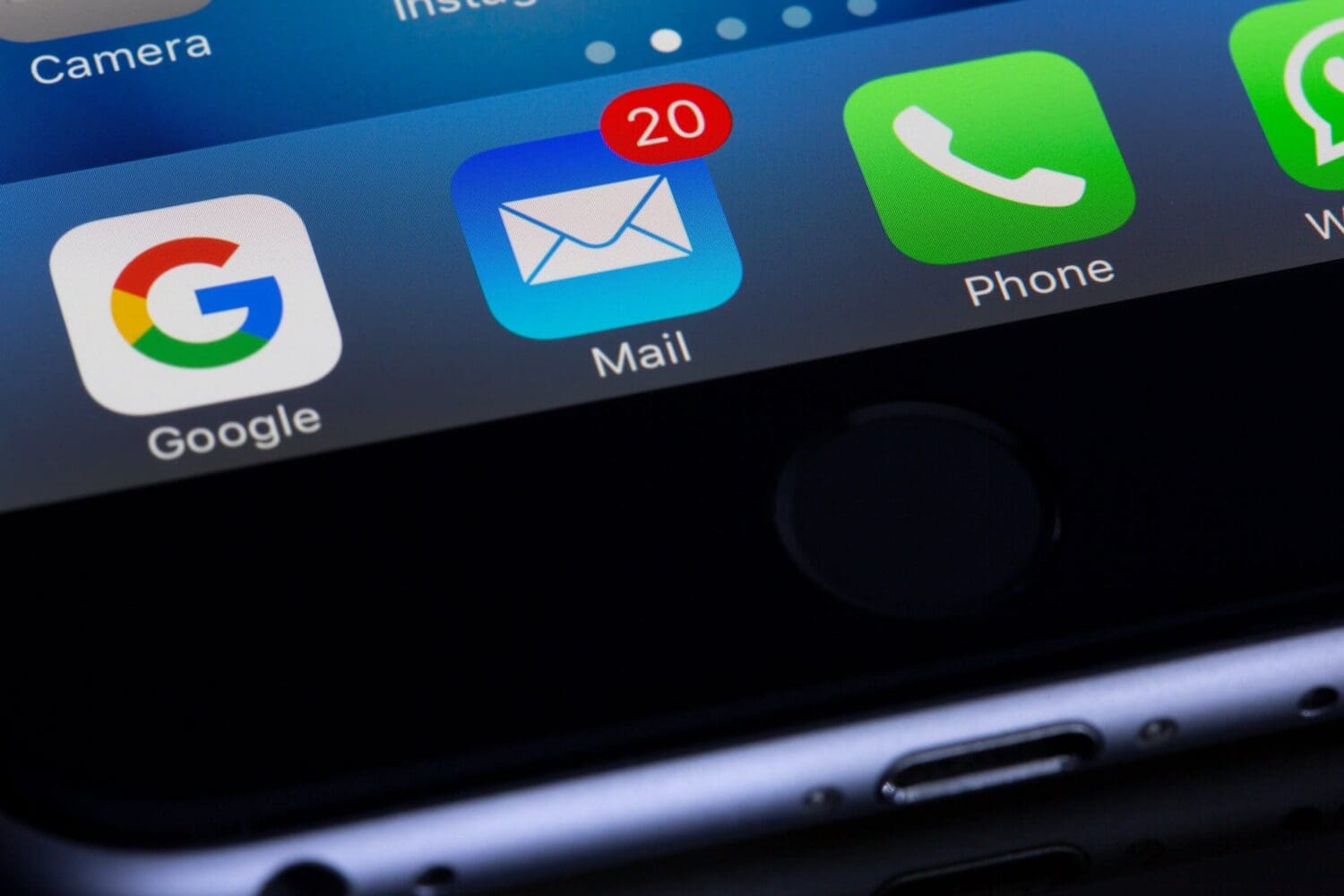 How To Create An Email Marketing Strategy (With Examples)
When businesses come to us expressing the need for email marketing services, I can't help but smile and share that while there are five common love languages, email marketing is a sixth one we claim here at ForeFront. 
Some argue email marketing is dead; I'm here to tell you that it's very much alive and well. It's the old tactics that have died. Cold sales emails are just as effective as your iPhone lighting up with an "unknown caller" ID – and we all know how that ends. 
As with any other marketing strategy, emails have a special tact that we digital marketers must lean into. A successful email campaign has to have a clear goal in mind, which is why you're here, right? Read on to learn how to craft an email marketing strategy so powerful you'll wonder why it took this long to implement in the first place.
As we journey through the ins and outs of all email marketing platforms and copywriting best practices, keep in mind that your own strategy will be unique to your own brand voice and contact list. 
Fitting Email Marketing Into The Bigger Picture
If you asked our conversion experts to define email marketing in layman's terms, they would explain it's a type of direct marketing that uses email to continue the conversation with potential and existing customers. Whether you're promoting a new product launch or simply keeping in touch with monthly newsletters, email is a great way to keep people interested in your brand.
Don't get too hung up on the "direct" aspect of email, though. The trick of the trade for successful email campaigns is to send at the right time and place in your buyer journey. Think to yourself, "What would make someone open this email over others in their inbox?"
Different campaigns will carry different initiatives. Someone may request a download from your website or sign up for a newsletter. This is a great example of how the messaging in your email strategy should adapt based on the recipient of said email. No matter what kind of email you're preparing to send, it should always tie back to your overall marketing objectives.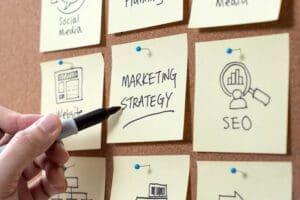 Email Marketing Strategy Examples & Copywriting Tips
Having a sound email marketing strategy will define the outcome of your upcoming campaign. Even sending a single followup email to a prospect should have a strategy to support your voice and the call to action you use. 
Product Launch Email Strategy
Let's go back to the product launch email mentioned above. If your business is introducing a new product, it only makes sense to tell people so they'll buy it, right? With your overall goal of selling your new product in mind, you should send your email to the people most likely to purchase this new product, including existing customers and/or contacts. The easiest way to generate recurring revenue is to sell to existing customers. They're already invested, which lets you travel quickly through the initial stages of the sales funnel! Time is money, and this strategy saves you a lot of both. 
Here's an example: You're introducing a new cookie assortment to your online store for Valentine's Day. You have a list of people who already purchased cookie assortments over the last year. This is a great opportunity to use existing customer information and email them an announcement highlighting your newest assortment. Get as creative and personalized as you'd like! But remember, the art of email marketing is to not come off like a used car salesman. 
Here are a few copywriting tips and examples for product launch emails: 
Make your content relevant. Seasonal product launches always win because everyone is thinking about that upcoming holiday. Shopping for the perfect, clutter-free Valentine's Day gift? Spread the love and gift our newest cookie assortment!
Be inclusive. Not everyone celebrates the same way. Get creative in how you market new products to ensure everyone sees the benefit of your product! Our newest cookie assortment makes celebrating Galentine's Day with your girls that much sweeter. Best paired with white wine and TV binging.
Stay human. People want to do business with people. If you're choosing to maintain that one-on-one conversation approach, try something like this:

Hey Jane,
We have a new cookie assortment for Valentine's Day I thought you'd love! It features several strawberry-infused recipes. Based on your last order of strawberry buttercream icing cookies, it only made sense to share this seasonal assortment. If you want to treat loved ones – or yourself (times are hard!) – you can use the link below. 
There are a million and one ways to craft a product email strategy. Have fun and try new techniques until you find the right fit for your business objectives.
New Promotion Email Strategy
Say you're not looking to launch a new product, but want to share a limited-time promotion with warm leads. A warm lead is someone who has expressed interest in your business, but hasn't converted just yet. This would be equivalent to someone filling out a contact form on your website, or someone who has even signed up for future marketing emails for exclusive access to promotions – like the one you're about to announce. In terms of messaging, your email strategy could look something like this: 
Exclusivity.

Access your 20% off insider promo code before midnight!

First look.

Get first dibs on our new arrivals just in time for spring!

Customer appreciation.

As a way to say thank you, get BOGO free on your next purchase!
Promotions big and small deliver results. You don't have to discount an entire collection in order to effectively use promotional emails. The idea is to make your promotion enticing enough for people to take advantage of the special offer on the table. 
How To Write Email Subject Lines That People Will Open
To avoid becoming white noise in someone's inbox – or, worse, being marked as spam – write email subject lines that pique the interest of your contact list. Your subject line is your campaign's initial touch point once it's sent out or scheduled from your email marketing platform. Strong subject lines have a strong open rate, which is why, as an email marketing agency, we're sharing professional intel on how to write the best performing email subject lines. 
As with any marketing strategy, you need to know who your audience is. I don't care if you're a business of one or 100; without a clearly defined target audience, you might as well set money on fire. Email marketers can use information about your audience to craft meticulous subject lines that speak to the wants, fears and needs of who you're trying to reach. Once you have an understanding of this pool of people, find inspiration in these subject line templates: 
The easiest way to avoid [fear/pain point]

The [season] collection is HERE!

[Promotion] ends tonight! ⏰

An exclusive offer of [promotion] just for you

First look: [new product]

Stop [pain point], start [want/need]

You forgot [product] in your cart

What if you could [want/need] in [short time period]?

Get [discount] sitewide through [date]
When in doubt, A/B test subject lines to see how different variations impact open rates. 
Building Your Email Sequence
The next step in your email marketing strategy is to determine the number of emails in your campaign. Sometimes, we refer to the number of emails as a sequence. This translates to 1) how many emails you'll be sending in a single campaign and 2) the frequency of those emails. 
This is a fine line to walk. Remember, you don't want to overdo it and annoy people, but you also don't want them to forget about you. Moderation is always key when it comes to email marketing. If you're working on a 4-email sequence over the course of a month, try sending out one per week depending on the promotion/announcement you're working with.
Most of the time, less is more. We're often asked about newsletters. Have you had any of these questions lately? 
How long should my newsletter be? 

How often should I send a newsletter?

What should I include in my newsletter? 

Who should I send my newsletter to?
You're not alone here. We've found the best email newsletter success when they're skim-friendly in terms of length. Constant Contact claims the best length for an email newsletter is approximately 20 lines of text. As for how often to send your newsletter, we recommend once per month. The people on your contact list lead real lives outside of their inboxes, and you don't want to become another "to do" for them in the grand scheme of things.

Newsletter content could be an entire blog topic on its own, but for now, remember this: What you put in your newsletter should be 90% educational and 10% promotional. Why? Because people know they can buy from you at any time, it's the value you deliver in your newsletter that will make them a recurring reader. I'm talking about quality, not quantity. If your current newsletter schedule is weekly and you're noticing unsubscribe rates are increasing, try taking a step back to bi-weekly or monthly blasts. 
Finally: Who should get your newsletter? Customers or clients are a great place to start. Going back to knowing your target audience, think about people who would benefit from your newsletter now that it's going to be more educational content than anything else!

TIP: Grow your newsletter contact list by adding an optional checkbox to website forms, giving new prospects the option to sign up for future emails!
TL;DR: How To Create & Launch Your Email Campaign
The idea is simple: email marketing is an effective way to keep your brand top of mind for people who have heard of your company in one way or another. Set your strategy up for success by mapping out clear objectives and how you can use email to reach these goals. Any piece of email marketing content should resonate with your target audience, be it a product launch or promotion announcement. You want to create value and a sense of urgency at the same time. Your subject line will be the first piece of the puzzle in a strong email campaign. Don't be afraid to try new techniques and keep an eye on campaign analytics to gauge the next best step for your marketing.
When Should You Seek Email Marketing Services?
Struggling to gain ROI with marketing emails? Is your contact list collecting dust in the depths of some old spreadsheet? Hiring professional email marketing services gives you a plethora of resources to not only write compelling emails, but schedule and monitor them among other ongoing campaigns. Our digital marketing team has crafted hundreds of email campaigns using Mailchimp, Constant Contact, Klaviyo – you name it! Share your own goals and let us know how our agency can truly move the needle on your email marketing. 
Join Today
Want exclusive marketing tips and tricks sent straight to your inbox? Join 1000+ fellow businesses and subscribe to our monthly newsletter!
Back to Blog