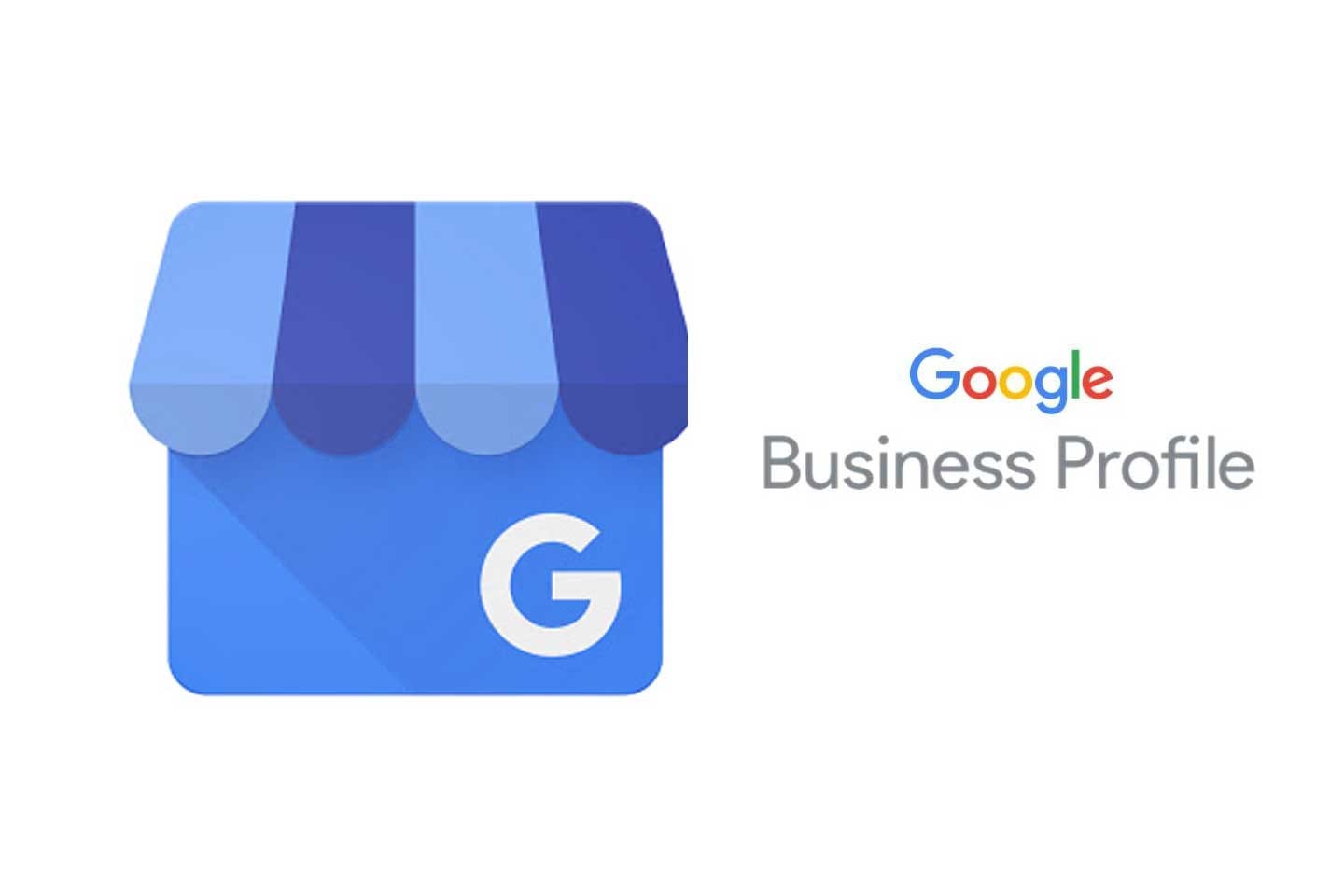 Is Google My Business (Google Business Profile) Worth It?
How You Can Make The Most Of Your Google Business Listing & Rank Higher Locally (Updated for 2023)
By Scott Kasun
A version of this article was originally published in 2019 but has been updated to reflect the most recent Google My Business advantages for businesses as of March 2023. Google now refers to this service as Google Business Profile.

Table Of Contents
The Basics
Reasons To Maximize
Other Considerations
Updating Your GBP Regularly
Optimizing your Google Business Profile page takes time and effort, and keeping it updated takes even more. Is all the effort worth it?
Regardless of whether you are a local, regional, national or international company, the simple answer is YES. Local search is an integral element of a comprehensive digital marketing campaign, and Google Business Profile is a huge and ever-growing factor.
Google Business Profile (formerly Google My Business) Listings: The Basics
It's important to note that even if you don't want to bother, chances are that someone else will. This may shock some, but you don't have to be a business owner – or even an employee – to create a Google Business Profile (GBP) listing. Anybody with a Google account can make one from scratch or update an existing listing. So you're in the game, whether you want to be or not.
Also, keep in mind that this is free advertising for you from Google, and that's never a bad thing. Yes, much of this traffic will be branded search, but anything you can do to make your company easier to reach is helpful, especially if you run a local business that serves people at your location.
And, if you do everything with your listing correctly, your business will start showing up in service- or product-specific searches AND potentially competitor-branded searches.
How does Google use GBP listings? In a variety of ways:
As a credibility checkpoint (a physical location carries much weight within their algorithm)
As a basis for contact information
To provide important information quickly, in a standard format
As a collection point for reviews
As a dialogue flashpoint
For simplified mobile access
As a reference point to related websites
A recent statistical review revealed that 46% of all Google searches are seeking local information. Might as well give the people what they want, and appease Google at the same time.
The REAL Reasons You Want to Maximize Your Google Business Profile Listing
One of the first steps we take with new clients is to review and optimize their GBP listing – regardless of the size of the company. Obviously, if GBP were simply a platform for branded search and/or small local business, we wouldn't waste time with this effort.
So why do we? The #1 reason is simply because Google places importance on it. And the importance seems to be growing – fast. Anything Lord Google finds important automatically becomes mission critical for us. If you're maximizing your listing, you take up the most possible space in your hyper-local service area. If you aren't taking advantage of your listing, you may fall behind as competitors garner more reviews, upload more photos and expand their list of official services/products offered.
Other Important Considerations:
Local 3-Pack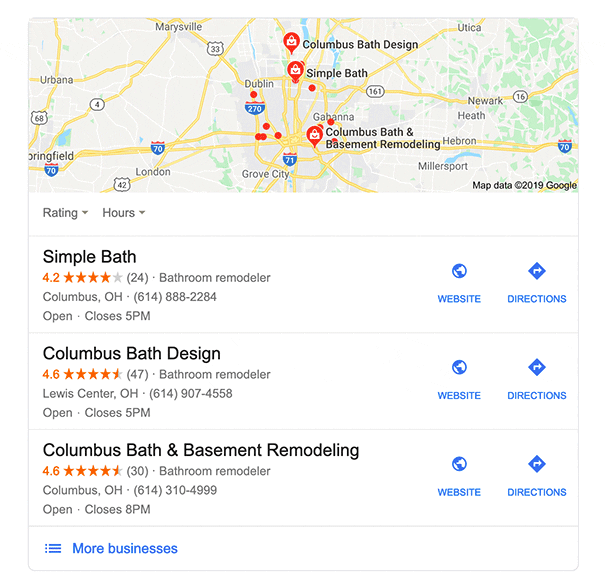 No, having a GBP listing doesn't guarantee you a spot here, but it's a big factor. Leverage the odds and optimize the heck out of that thing with 3-pack placement as a goal. The traffic you'll get is well worth the effort.
Google Maps
A completed GBP page is vital for local map search. Google uses this data to feed Maps, and considering the fact that proximity is a key factor for local search, this is a vital component of a comprehensive local search campaign. Having up-to-date hours & NAP (name, address, phone) data will ensure you're doing right by your current and potential clients, which means you're doing right by the algorithm.
The Roll-Up Effect
A fully-optimized – and well-maintained – GBP listing leads to better map placement and possible 3-pack placement, which all has a "roll-up" effect on overall organic search listings. That's why these listings are important for companies that aren't only local. When you optimize this piece of the puzzle, it can boost your actual website, too.
What Regular Updates Do I Need To Make?
Posts
Is Google Business Profile free? Yes, so take advantage of it! It will help your company stand out, and help separate you from your competitors.
One of the most important components is Google Posts. These are short, 100-300 word posts, along with a photo or video. You can dress up your posts with call to action buttons that lead visitors to pages on your site. These are organic clicks that will help your overall site metrics, not to mention directing traffic to high-converting pages.
UPDATE: previously, Google Posts disappeared after 7 days. Google has made an update, and posts stay put indefinitely. Scotty, one of our SEO analysts, has this advice: "instead of pushing out posts every 7 days, you should focus on creating content that is going to generate actual clicks in the long term."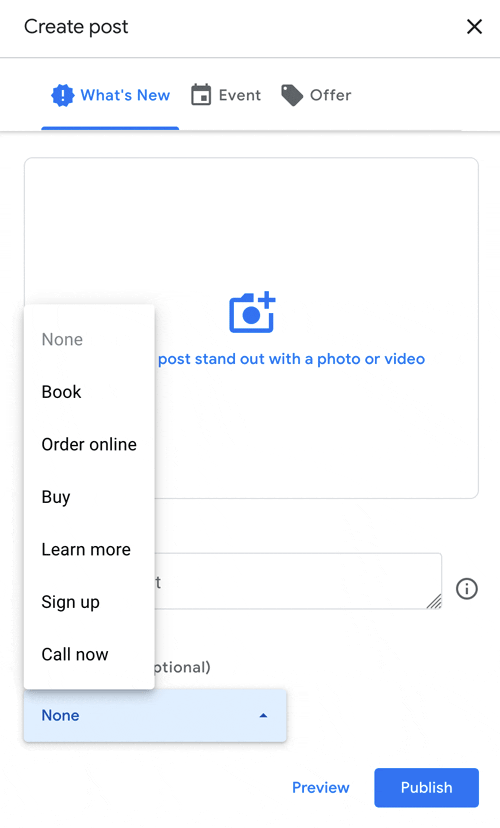 You have lots of options when it comes to Posts. You can promote events, present special offers (see below) or simply highlight something you do with a variety of call to action prompts. The best part? By adding a new post at least once a month, you can control the messaging surrounding your brand on a local level.
Offers
Offers can be huge for your listing – a recent check showed that one of our clients' offers received triple the clicks than any other post this year. The only quirk about offers is where to find them with the admin panel! We got you: when you click on Posts, there's a subtle menu bar at the top of the page. You can access Offers from this menu.
Images
There is currently a limit of 2,000 on GBP images, and most people aren't likely to hit it. It's unclear the extent to which updated images affect search rankings, but considering that image search is an important part of Google search, it's safe to say you should add images whenever you can. And hey – people love to look at pictures, and they tell the story of your company in ways that words cannot.
The more new photos you have (whether you uploaded them or a customer did) the better.
Reviews
Yes, reviews matter. Just take a look at Amazon, and the products that sell the most – they are typically the highest and most rated. When you add in the fact that Google puts great emphasis on reviews, it justifies the extra effort you'll need to make here. Just don't try to take the easy route, and make up reviews or pay people to do them. You will be found out, and your site will suffer. And if someone trashes you online, respond in a thoughtful, timely manner to protect your brand's reputation.
GBP also creates a nice little URL for you to share to happy clients. Rake in the 5-star reviews and become the community leader.
The Unknown
The importance of Google Business Profile is much more than posts and images. It's a critical asset to your entire digital marketing strategy. In reality, having an optimized GBP listing plays a bigger role than we think it does.
I love a good conspiracy theory, so here's one for your next social gathering (if they are sad and dorky, like mine). Google is up to something bigger here, and I think GBP is just the tip of the iceberg. Up to this point, GBP is completely free, but I think those days are numbered. And when you add in the fact that GBP also includes a website builder, the plot thickens.
Just think: If Google controls the platform, they control the amount of organic search SEO influencing that can be done. That leaves only one alternative: Google Ads. Cue the diabolical laughter…
Join Today
Want exclusive marketing tips and tricks sent straight to your inbox? Join 1000+ fellow businesses and subscribe to our monthly newsletter!
Back to Blog