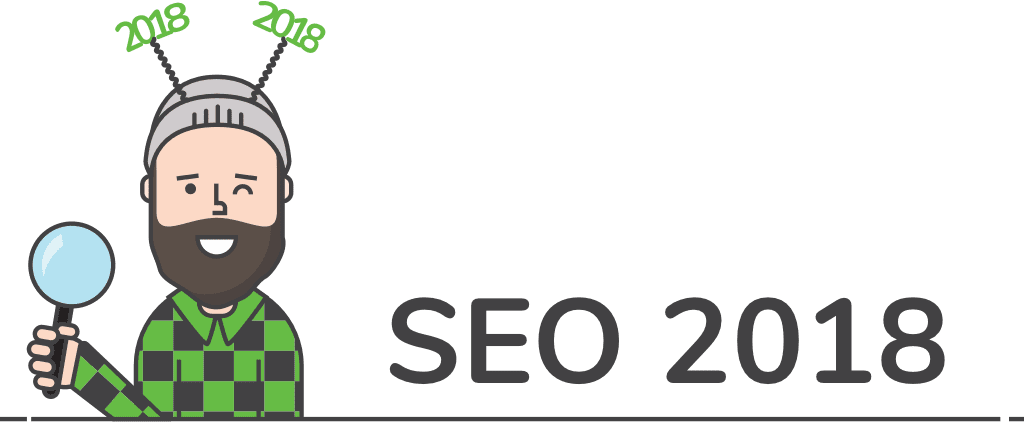 Welcome to the Era of Cyber Security, Review Generation & (Of Course) Content Creation
As things change, the more they stay the same – which is the name of the game for SEO in 2018. Google has crafted and amended its algorithm to reward web resources that present the best information, offer the greatest user experience and possess a stellar reputation and level of accountability. These sites get the top spots; the heralded head seat at the table of organic search rankings. As we enter the new year, we ask ourselves: what's going to change? If the Google SEO algorithm is more human than human, what is left to reward? How do we rank higher in 2018?
We've got some pretty great ideas – based on data, analytics and our very own experiences. Check 'em out!
1) Cyber Security & Trust
Our biggest prediction of the year is that cyber security will become a primary player in the SEO field. Google already grants the top spots to websites that provide information for users – the next step is to reward sites that also protect its users. That means sites with SSL certificates will see a boost, hard-coded functionality will be rewarded and properties that are hosted on trusted servers will benefit.
In previous years, when a HTTP website installed a complete 301 redirect map to its new HTTPS property, you could reasonably expect to up to 15% loss of SEO power. But in the past year, as Google has given SSL certificates a new level of importance, the algorithm no longer punishes a website for its redirects. Nothin'. No change whatsoever. As long as you're working to protect your users with stronger encryption, you get a free pass. We believe that throughout 2018, websites that perform 301 redirects from their old HTTP to their new HTTPS will see an increase in rankings, as opposed to a no-change.
Now, if you're a web design agency for mid-to-enterprise level businesses, chances are you're going to be asked a lot of questions throughout the prospecting and discovery process. "What are you doing to protect our users? What are you doing to protect our website? What are you doing to protect our entire business?" There's a product/service dedicated to answering these questions with confidence and clarity. It's called a "SOC audit for cyber security." This report proves that your agency has done everything in its power to protect passwords, financial figures, HIPPA-related information and other highly-sensitive pieces of data. We owe it to our clients to protect their best interests at all costs. The agencies that do will be rewarded with traffic and strong SEO for the websites they produce.
The Takeaway:
As your site ranks higher, more traffic will be heading to your way. Those users better be protected or else Google will drop you like a slippery sack of spuds.
2) The Power of Google Reviews
If there's one SEO signal that has declined like the hope in a Browns fan's eyes throughout the course of a season, it's the one coming from Yelp reviews. 2013 was all about reputation. If users were running to Yelp, Yahoo and other review sites to give you a 5-star evaluation, you felt that impact on the organic ranking battlefield. But Google has become keen to some of these sites and their pay-to-play models. The search engine giant understands the business of fake reviews and how they dilute the power of crowd-sourcing for reputation. Which is why Google Reviews will become the biggest SEO signal when it comes to reviews.
At the end of 2017, after using Google Maps to reach a new business-related destination, users who were logged into a Google account would receive a push notification about their experience at the establishment. This is BIG. Not only will it garner more reviews and more business information, but there's also a 2-step level of authenticity in play. You have to be signed into a personal Gmail account to leave a review, but you also literally had to arrive to the destination before you get the notification. On top of this, the notifications are smart enough to calculate the average wait/serve time and push the suggestion for a review after that time had passed.

The Takeaway:
Google Reviews offer a two-step authentication to reviewing a company or brand. Why risk fake reviews, padded stats and pay-to-play techniques? Google is keeping it clean and rewarding brands with stellar Google Review reputations.
3) Clear Conversions Paths (& Conversion Rates)
Remember how we said Google is "more human than human?" Well, you know what humans like more than a million backlinks and spammed keywords? Ease of use. We like a simple experience that gets us what we want. We like … Chipotle, Subway and Netflix. If you do everything in your power to cultivate a great user experience, you should see a boost in the rankings.
How can you improve your conversion path? Calls-to-Actions should be in familiar places, like one in the top right corner of the main navigation, one above the fold in the first content block of the site and one near the end of a page. JavaScript should be kept to a minimum to boost site speed and ensure it works across all platforms. The contact page should be in the final position of the main navigation. All of these factors feed into a relatively new idea we call "conversion rate as an SEO factor."
Our theory regarding conversion rate as an SEO factor is as follows: When search engines rank a site higher because of its reputation and content, they will also monitor user interaction with the site. Abnormally high bounce rate from boosted organic search? Rankings drop. Users clicking around, sticking around and uploading data to a site? Rankings go up.
The Takeaway:
Google will reward sites that not only make it easy for users to get to a conversion point, but sites that also get users to convert at a higher rate – whether that be a form submission, newsletter sign-up or on-site purchase. If users are converting, it means you offer both great information and an excellent user experience.
4) Google Quick Answer Boxes
It is fundamentally known that Google puts the best answers (websites) for specific questions (searches) at the top of the 1st page. But what happens when an answer is perfect, clean-cut and comprehensive – yet concise? Google features it in a "Quick Answer" box for that particular search phrase. 2015 saw the birth of these Quick Answer boxes, but these spaces were mostly reserved for recipes, reviews and how-to's. 2017 saw their popularity shoot through the roof! From "How do bears sleep," to "what is the value of pi in fraction," these quick-hit answers are all over the place. And as 2018 rolls along, we expect this trend to continue. In fact, we have found that when a website locks down a Quick Answer in the search results, its service-related terms rise as well. One of our SEO campaigns jumped almost 5,000% in a month from organic search traffic after we created a piece that was featured.
How Do You Get a Google Quick Answer Box?
Think of a common question that exists in your industry. What frequently asked, niche inquiry do you face so many times it makes your head spin?
Do a search for that question and, if there's no Quick Answer for it, you've found the subject of your new blog post or page!
Craft 400-750 words surrounding the topic, but be sure you pull out all of the on-page SEO stops for this post.
Create at least one header that asks the question in full.
Answer the question underneath that header, clear as day, with about 25-50 words.
If you're answering a "how-to" question, spell it out in a numbered list. Questions about data points and numbers? Answer it in a table. Google will recognize the answer, pull the data and use it accordingly.
And you better act quick because these spots are being eaten up quick! But don't completely freak out if your question already has a Quick Answer – if you can answer it even better, you may bump the existing answer and take its place. We're gettin' all "animal kingdom" up in here.
The Takeaway:
When an answer to a niche question is answer in a perfect way, Google will feature it in a "Quick Answer" box at the top of the page. What do you know the most about? What questions do you face often? Draft content answering that question directly and try to gain that top spot.
5) Content Marketing, As Always
We will repeat it until we're blue in the face: if you want to compete in the organic rankings, you have to focus on content. The words you write, the images you use and the on-page SEO you employ make all the difference. Google can tell how much effort you put into your content marketing. The algorithm can detect if you're the real expert on the subject. If you are, you'll openly demonstrate your prowess. If you're not (or you're simply just lazy), you'll slide down the ranks. We have watched websites quadruple their overall traffic and triple the number of conversions from content marketing alone. It is worth your time and, if you are the real aficionado of your field, it should be easy!
The Takeaway:
Spend a little extra time on your content this year. Make small changes here and there. Create new posts to answer rising questions. Maybe take your internal pages on a date and see what they are really saying. If you make the effort, Google will recognize it and rank you accordingly.
Looking for more information regarding SEO tips in 2018, cybersecurity for SEO or content marketing? Get in touch with ForeFront Web today. We'll help learn you a lesson.
Join Today
Want exclusive marketing tips and tricks sent straight to your inbox? Join 1000+ fellow businesses and subscribe to our monthly newsletter!
Back to Blog